Enzo Umbaca STROFINACCI (TEA TOWELS)
Inauguration – Thursday, September 12, 2019, 7 p.m.
13.09.2019 – 12.10.2019
Opening times: Daily – 10am-1pm, 3pm-6pm Saturday and Sunday by appointment – 339 2487266
Strofinacci (Tea towels)   workshop by ENZO UMBACA promoted by Gallery P46 as part of the 2019 Festival of Communication
The workshop conducted by Enzo Umbaca in Camogli, at the request of Galleria P46, is part of a work in progress involving every region of Italy, taking as its starting point a commonplace item: the tea towel, an object found in every kitchen, a place where Italian culture is identified via its rituals of the table, good food, and the family. Looking at the tea towels sold at souvenir stalls in Italy, one realises the abundance of products and the productive and diversified wealth of the country. This everyday object, which symbolises the identity of each region between the commonplace and the actual genius loci, is used by the artist as a tool to stimulate, during meetings and workshops, discussions and reflections on issues relevant to each community, between the past and the complexity of the present, in a stratification of visions and narratives that the participants stitch and embroider directly onto the tea towels. The intention is to create a large map of Italy, the fruit of a collective and shared process, of a plurality of 'voices', created as a patchwork with the traditional and now little-practiced technique of embroidery, in a work in progress that grows as it moves through the regions and which involves and unites communities, schools, groups, and individuals. I conceived of this experience," says the artist, "partly to give expression to the possibility of reconstructing Italy at a time of great crisis in which everything has become unstable, and precarious, and many issues, even historical achievements obtained at the cost of long and laborious struggles, are called into question by the rise of national sovereignty." Enzo Umbaca was born in Caulonia in 1964, and lives and works in Milan. He expresses his developing research through a variety of languages, ranging from video to photography and performance, and through projects that foster relations and relationships with other people, be they the inhabitants of a town or experts in other disciplines, which are indispensable in the creation of his work. He investigates reality by studying collective rituals and identity issues. Umbaca was listed as one of the 100 most significant living artists in the world in the third edition of the internationally recognized book series devoted to contemporary art – Cream 3 – published in 2003 by Phaidon Press. He has exhibited in Italy and abroad, in institutions and museums such as the National Gallery in Bratislava, the MART in Rovereto, the Fondazione Sandretto Re Rebaudengo in Turin, the Casino Luxembourg, Luxembourg, the MAC/VAL Musée d'Art Contemporain du Val-de-Marne in Paris.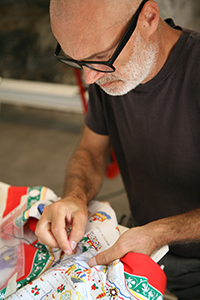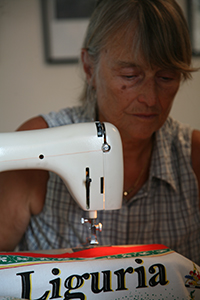 Julia Binfield A Day at the Sea
Inauguration – Saturday 6 October 2018, 6 pm
07.10.2018 – 02.12.2018
Opening times: Daily – 10am-1pm, – 3pm-6pm, Saturday and Sunday by appointment – 339 2487266
The central part of the exhibition 'A Day at the Sea' consists of 27 monotypes of the same subject which, at first glance, may seem very similar. In reality, they are divided into two periods of the same day, the early afternoon, when the light is very strong, and about two hours later, when the sun starts to set and the light changes. You cannot really tell whether you are in the water or out of it. It is the feeling, the colour, the atmosphere that arouse the interest.
On the one hand, the view is static, always unchanging. On the other hand, it is ever-changing, the colours are very vivid for a long period of the day, then the light fades, possibly a storm is brewing or it is simply the twilight. These works have been complemented previously by other prints that depict the same subject at different times, at around dawn and just before midnight, to convey the feeling of the entire arc of the day.
The apparent repetition of the subject is an approach that the artist often adopts, while the intent (surrendering to chance, forsaking linear description) and the technique (monotype) are very different from the usual. As someone who has always been fascinated by the flexibility and unpredictable nature of monotypes, Julia Binfield explored the technique in-depth at the A14 workshop in Milan with Daniela Lorenzi in early 2018, and knew it was very well suited to express the feeling she experienced on a day at the beach in August 2017.
The monotype technique is not readily controllable and opens up a space for random autonomy of the material, to see what results, to produce a series without any expectation of homogeneity, and only then, with a detached gaze, to place each print in its position in front of the finished work. The works are made on a very light Japanese paper, which Julia Binfield often selects, and in this specific case, it allows her to streamline her presentation with the passage through the press.
Other heavier papers would have to be wet and kept moist for the duration of the process, but in this case, several steps were taken to render the desired atmosphere. The result is that every tiny change in the light is captured in detail, either by punching a point into the ink on the plate, intervening with alcohol, or working with frottage to highlight some minute contour.
Julia Binfield, from London, trained at St.Martin's School of Art, where she studied graphic design. After this, she worked for two years at Pentagram with Alan Fletcher. She then moved to Italy, to Rome, then Milan, where she currently lives and works. In recent years she has worked in graphic design, illustration and on her own work. In 1995, Edizioni Charta dedicated a monograph to her, while in 2005 she won two prizes as best illustrated book of the year with "N.3. Che mistero nasconde il giardino dei vicini?" (What mystery lies hidden in the neighbour's garden?), published by Topipittori. Her other awards include the British Design and Art Direction, European Illustration, Art Directors' Club Italiano, and Associazione Illustratori Italiani. She has collaborated with various schools where she creates murals with children. In 2013 she created an installation commissioned by the Polytechnic University of Milan and Milan City Council in Piazza Leonardo da Vinci. She always dedicates part of her time to personal projects, which she exhibits at shows in England and Italy.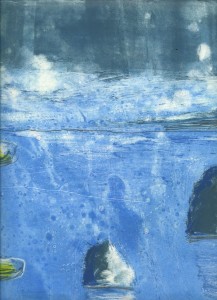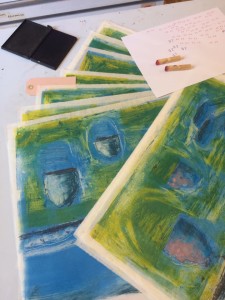 GORDON PARKS "NERO AMERICANO"
15.07.17 – 03.09.17
Gordon Parks – Writer, poet, musician, filmmaker, and above all photographer, Parks chronicled the difficulties of being black in a white world.
The photography of Gordon Parks. American Black. Photography does not only capture images of the world around us. If used properly, the camera can become a powerful tool for sociopolitical critique as well as cultural enquiry, condemnation, and at the same time advocacy. Gordon Parks has succeeded in bending the camera to his will, using it to reveal the profound split that has divided America from within: the ghettoised world of African Americans, the difficulties of integrating small social groups as they struggle to survive. He has told stories and anecdotes and documented unforgettable historical situations. And today these images still speak to the public, conveying all their power of critical reflection on injustice, poverty and marginalisation. With his unique and versatile style, Parks overcame the barriers of traditional photojournalism to analyse situations from the inside: his images are of everyday life, of children and families captured in their most spontaneous moments; he could portray people's behaviour without judging them, looking at them from the ground up, almost as if they were heroes of life and survival. It is on these themes that Parks reveals his contemporary nature, his merciless yet delicate gaze on society and the individuals who comprise it. The topicality of Parks' gaze is also revealed in his shooting methods, in his framing technique, in his conception of the story to be told; his is a cinematographic eye, which tells the images by skilfully constructing an almost musical rhythm. A poem.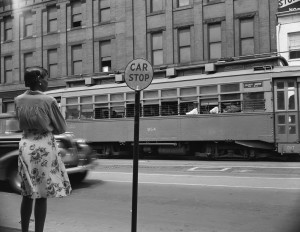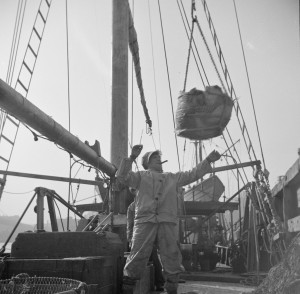 CONTEMPORARY VISIONS | Videoart in loop
Contemporary Visions ∞ VideoArt in LOOP is an event involving video art along a simultaneously shared pathway in different parts of the world. CONTEMPORARY VISIONS: this is AIAPI's intention in transforming an exhibition into an international event involving the world and bringing it together in art.
Different locations around the world, unusual and unexpected venues that become arenas for art that can be enjoyed by the public at any time. People approach contemporary art with a diffidence fuelled by the habit of thinking that it is a niche product, reserved only for experts and detached from the general public. In reality, art is for everyone and belongs to everyone. At the very instant it is produced by the artist, it starts to belong to the people, who can fully appreciate its value even when – and perhaps most importantly in the very places where – they would least expect to find it. And so, art becomes something for everyone. At the same time, in many parts of the world, people from different cultures will have similar experiences and feel a closeness to one another. Art overcomes barriers, unites us, and elevates us to a vaster reflection of reality, offering us (contemporary) visions which are a soothing and welcome balm to our eyes. Contemporary Visions ∞ VideoArt in LOOP involves artists from all over the world in a globe-spanning event.
http://aiapi.it/contemporary-visions
ARTISTS
Sergio Albiac | Donato Arcella | Atotonilco Estudio | Augenblick | Federica Barcellona | Steven Briand | Silvia Camagni & Grace Zanotto | Francesco Carbone | Massimo Cappellani, Katia Di Rienzo, Emanuela Fiorelli | Pablo Caviedes | Daz Disley | DORI&GREY | Maurizio Follin | L'Appeso Videoproduzione | Kasumi | Fenia Kotsopoulou | Francesca Lolli | Ruggero Maggi | Shimrit Malul | Chiara Mazzocchi | Rasoul Moareknejad | Nadia Perrotta | Anna Pozzuoli | Punto Critico | Giordano Rizzardi | Marco Rocca | Candas Sisman | Elena Tagliapietra
 Saturday October 1 2016  6 p.m. 02.10.16 – 16.10.16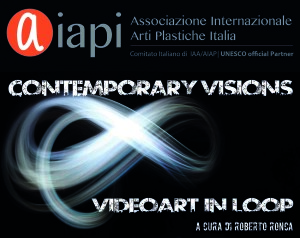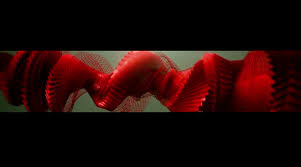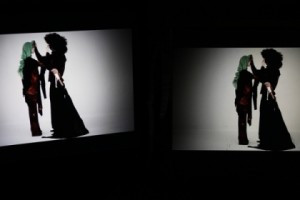 Luca Panaro | PHOTO AD HOC
The book brings together works by Italian artists skilled in producing ad hoc photographic images, conscious of relating to the culture and identity of a place, and adept at understanding the evolution of a particular area via the documents preserved in a museum. The result of this process is a variegated sample of approaches, forms, and testimonies of a community endowed with an iconographic baggage to be handed down. In Luca Panaro's essay, the figure of the artist emerges empowered, with the strength of a revitalised social role.
Luca Panaro (Florence 1975) is an art critic and curator, with a degree in Contemporary Art from the DAMS (Discipline of Arts, Music and Performing Arts) of the University of Bologna. Since 2007 he has taught "History of Photography Criticism" at the Brera Academy of Fine Arts in Milan. In 2005, he began collaborating with the Polytechnic University of Milan, Piacenza campus, where he has been teaching "Photographic Iconography" since 2013. His books include: L'occultamento dell'autore. La ricerca artistica di Franco Vaccari (APM 2007), Tre strade per la fotografia (APM 2011), Conversazioni sull'immagine (Danilo Montanari 2013), Casualità e controllo. Fotografia, video e web (Postmedia Books 2014), and Visite brevi (Quinlan 2015). He published the article Realtà e finzione nell'arte contemporanea (Reality and fiction in contemporary art) in the Enciclopedia Treccani XXI Secolo (2010) and co-edited the multi-volume work Generazione critica (Danilo Montanari 2014-2016).
Book presentation – Saturday 23 April 2016 at 6pm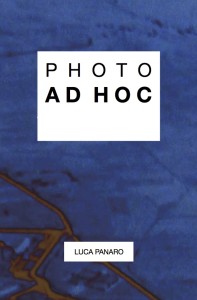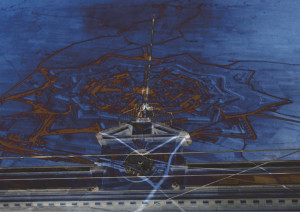 CIBO 2.0 (FOOD 2.0)
"CIBO 2.0″ is a site-specific interactive project by Paolo Veronelli, commissioned by P46 Gallery for the second Camogli Communication Festival. Established as a contemporary photography gallery, P46 has welcomed the invitation to address language by offering visitors a new communicative experience that deploys commonly used technology in an exploratory way, bringing together tradition and innovation, uniting the physical with the virtual, and the local with the global.
For the entire duration of the festival, a software (QRManiacs) will be operating which will allow the festival visitor to interact with the gallery, which can only be accessed by reading QR codes positioned in several shops in the centre of Camogli.
Each code will send the user to a platform dedicated to a speciality of Ligurian cuisine, and the answers each user collects will be stored in his or her virtual account. However, participation in the game-project will only be formalised by entering the Gallery, which will be equipped for the occasion.
The QR Code's feature of providing direct links to virtual resources, bypassing the need for our own textual processing (Googling), is used in this initiative to beckon the visitor to experience a new form of interactivity: aiming the eye and the smartphone at the environment, recognising it as a highly sensitive indicator of the virtual world. From augmented real-life to diminished virtual reality.
10.09.2015 – 13.10.2015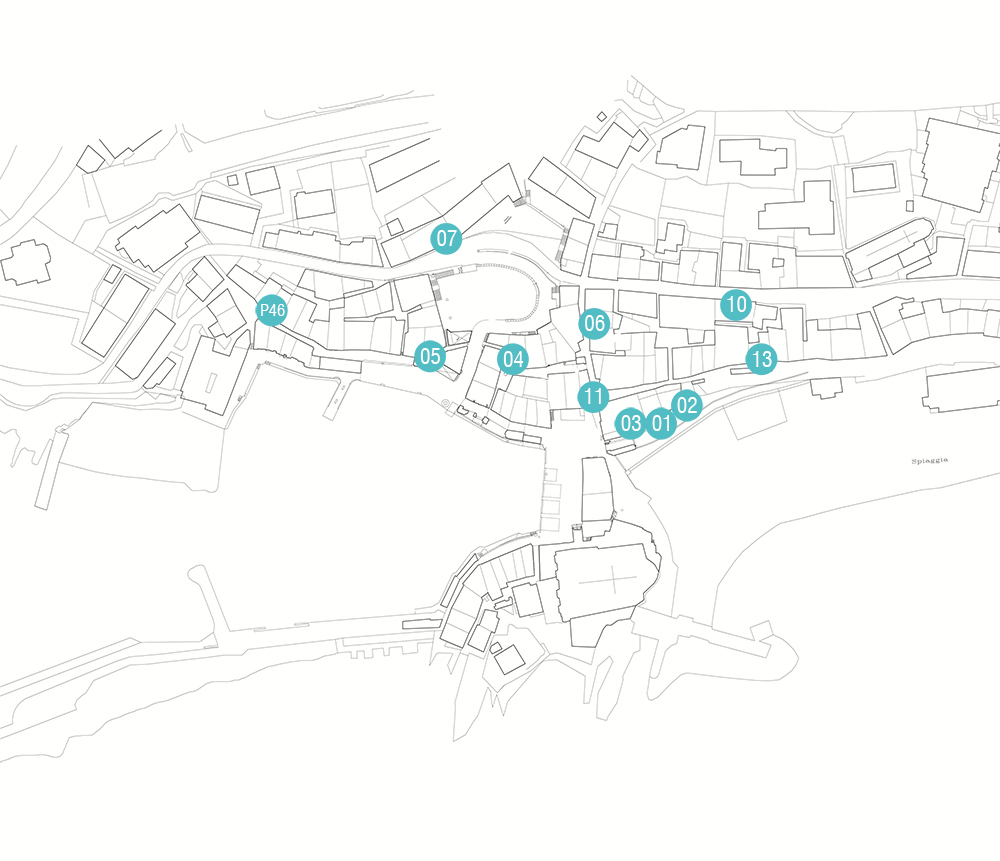 LUCIANA BORA Camogli, produces artworks on paper
The Ligurian landscape became a recurring theme in Luciana Bora's painting from 1950, when she spent her first summer in Camogli. Having trained at Brera in post-war Milan, with fellow students such as Enrico Baj, Alik Cavaliere, Alfredo Chighine, Roberto Crippa and Dario Fo, Bora followed Achille Funi's painting class, assimilating his twentieth-century realism, which can be seen in the monumental setting of the human figures in her early oil paintings. Subsequently, her work evolved through individual research based on light and colour, denoting the artist's unique chromatic talent. From her vast pictorial production, in which she has dealt with numerous subjects and a variety of techniques, this selection of works on paper shows her versatile ability to transpose themes using a variety of media, combining pastel and watercolour, or simply using Indian ink. Created over a period of at least thirty years, the works on display illustrate views of landscapes in which the Mediterranean scrub, immersed in the cool blue tones of the sky and the sea, is rendered by broad strokes of colour, which are then followed by decisive pastel strokes. The blurred landscape, with the high chromatic impact, of her watercolours is softened in the ink drawings where the lush vegetation is meticulously translated in sharp contrast with the clear and simple lines of the Ligurian architecture in the background.
Silvia Barisione Curator, The Wolfsonian – Florida International University, Miami Beach.
Inauguration – Friday 28 August 2015 6 p.m.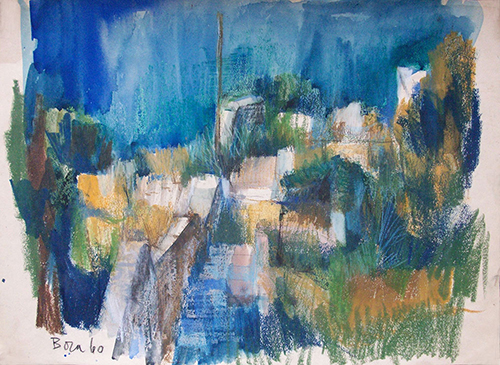 [/layout]      
Are you ready for the LET'S COMMUNICATE THE FUTURE exhibit?
The 10 selected illustrations will be showcased at P46 Gallery in Camogli, Italy from 12th to 14th September 2014, in conjunction with Festival della Comunicazione – an annual meeting of debate on the subject of communication.
Moreover, live interviews with the selected artists will be live streamed during the exhibition!
Thanks everyone for taking part in the Let's Communicate The Future Contest!
We're happy to announce the 10 selected artists : Ailadi CortellettiToni Demuro, Reynante Martinez, Gel Jamlang, Rene V. Steiner, Nuncio Casanova, Vincent Moro (Blumagenta), Luis Enrique Cuellar, Pierre Paul Pariseau, Wayne Edson Bryan
Opening – Thursday, September 11th, 2014; 6:00 pm in CAMOGLI
12.09.2014 – 12.10.2014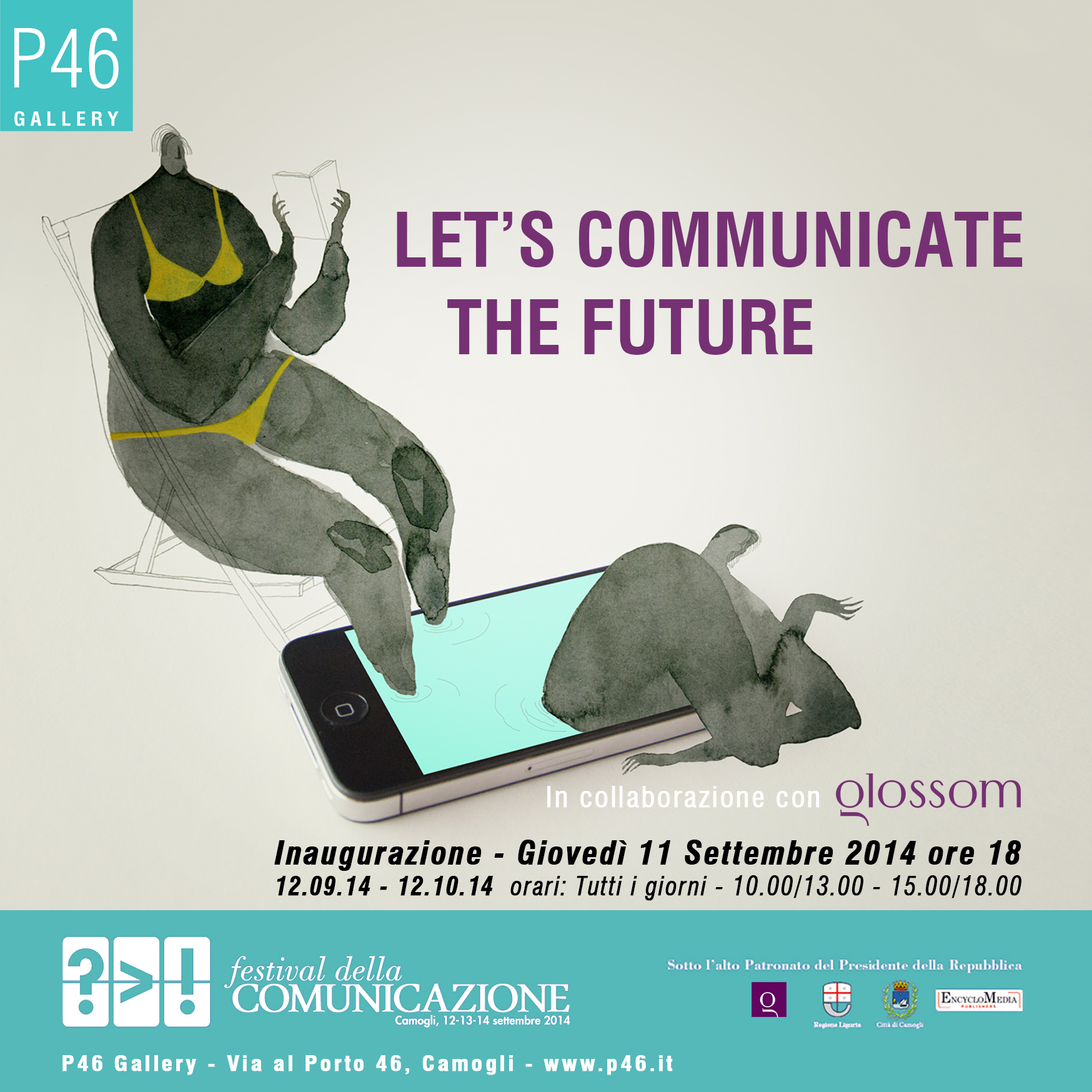 OPEN CALL FOR ENTRY – LET'S COMMUNICATE THE FUTURE
Glossom in collaboration with P46 Gallery is pleased to announce an Open Call to all the illustrators, graphic designers and visual artists to take part in the LET'S COMMUNICATE THE FUTURE contest. The rise of widespread digital technologies and approachable user interfaces has changed the way we share ideas and have conversations, and will further in the days to come. What's your take on the future of communication? The submitted work has to be related to the impact of new digital communications technologies on the society and the relationship among people and between people and institutions. Upload your submission on Glossom and tag it #communicatefuture 10 works will be selected and they will be displayed at P46 Gallery in Camogli, Italy, for a three day exhibit from 12th to 14th September 2014, in conjunction with Festival della Comunicazione – an annual meeting of debate and entertainment on the subject of communication, thought as transmission of a message in any cultural, media and technological frame of reference. Moreover, the selected artists will have the opportunity to be interviewed via conference call (Skype or Google Hangout) no matter where they are in the world, during the event.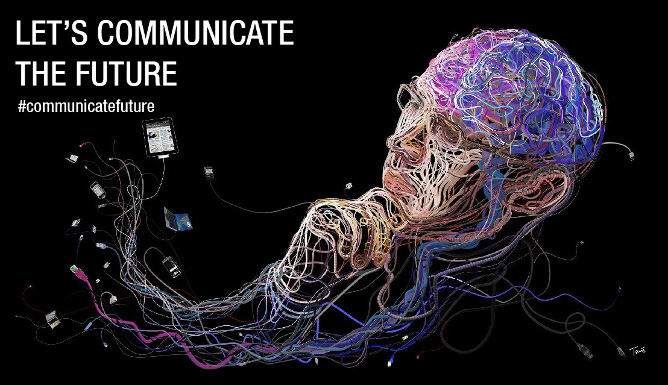 OPEN CALL FOR ENTRY – URBAN LANDSCAPES
P46 Gallery in collaboration with Glossom is pleased to announce an Open Call for a photography contest to all Glossomers for the inauguration of our Gallery in Camogli.
The theme will focus on "": city, metropolis or suburb seen through a photographic journey aiming to identify its contemporary character. The presented work has to relate to the reading of contemporary landscape, its transformations and its links with human presence. 15 photos are requested, reflecting a clear idea and uniformity of language. The work considered the most interesting by the contest jury will be exhibited in our gallery for 4 weeks. Moreover P46 will publish the catalog of the exhibition.
Closing date: 15th March 2014 Jury Finalist Announcement: 31th March 2014 Exhibition Opening: May 2014 Jury Silvana Turzio, curator Fulvio Zendrini, collector P46 curators